Vector Calculus, Linear Algebra, and Differential Forms: A Unified Approach
5th edition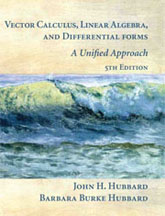 John H. Hubbard and Barbara Burke Hubbard

ISBN 9780971576681
A pdf version is available. Please read this before ordering.
Please consider recommending that your university or department librarian order this book. Thank you!
For more information, click on the links below.
Why a 5th edition?
Sample pages
Superb on all counts — review in CHOICE (review of 1st edition)
A real gem — review of 2nd edition, MAA Monthly
Praise from readers
Review of 3rd edition, MAA Reviews
Errata
Correspondences between the first and second printings (This concerns numbering in Section 2.6.)


This 5th edition contains all the things that made the earlier editions different from other textbooks. Among others:
Integrating linear algebra and multivariable calculus


Using effective algorithms to prove the main theorems (Newton's method and the implicit function theorem, for instance)


A new approach to both Riemann integration and Lebesgue integration


Manifolds and a serious introduction to differential geometry


A new way of introducing differential forms and the exterior derivative.
There is also new material, in response to requests from computer science colleagues:
More big matrices! We included the Perron-Frobenius theorem, and its application to Google's PageRank algorithm


More singular values! We included a detailed proof of the singular value decomposition, and show how it applies to facial recognition: "how does Facebook apply names to pictures?"